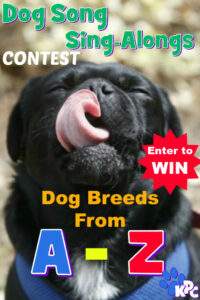 Do You Love To Sing Or Rap or even to Clap? We are looking for Talent.
Enter the Dog Song Sing-Along & Remix CONTEST and CASTING CALL!
Do you dream of being a star or just like to have fun singing or rapping along? Well now's your chance! With our new Dog Song Sing-Along contest you could have the chance to be featured in our upcoming videos and TV series, as well as win cool prizes!
The idea is simple: Submit a recording of yourself Singing Along or Rapping to our A to Z  Dog Breeds Video or get your parents to submit one if you are under 18. Or come and see us live at Canadian Pet Expo this weekend.
2 Entry Categories:
Open to residents of Canada and the United States, where legal (ex. Quebec).
Under 12 years old.
      2. 12 and over.
All singers under 18 must get permission from a parent and have their parent send in the entry form below.
Prizes
2 x VISA Gift Cards of C$75 each, one per age group.
1 x VISA Gift Card of C$25 random draw from all entries.
The chance for your submission or voice to be featured in the A to Z Remix Mash Up and Compilation Video/s and/or in a Gallery.
The chance to be considered for future paid TV, music and video projects. We are currently casting for young music creators and singers or rappers for future Dog Songs and for a scripted TV pilot.
How to Enter
Just provide us with a recording of your own special take on our A to Z Dog Song! You can do a line, a letter, a verse or the whole song. 
You can rap, you can sing in any style, you can shout or you can read out loud. You can even have your own dog at home bark-along if you want to.
Record your voice into a phone, your computer, a camera or any other recording device.
You can use our beat which can be downloaded here but you do not have to. Do not use anyone else's music. You can create your own as long as completely original and you grant us the right to use it.
You can download and print your free illustrated copy of the lyrics here.
Our panel of judges from the production team at Kids' Pet Club will choose 2 submissions to be our winners, one in each age group. We will  then choose the C$25 Gift card winner by random draw from eligible entries . 
Send in your video or audio file to us at kidspetclub@gmail.com, or post your video on YouTube, Vimeo, Instagram, or Facebook with the tag #kidspetclub and @kidspetclub, and send us the link.
Bring extra attention to your video by using the hashtag #kidspetclub on any of your social media.
By entering the contest, you give permission for The Producers of Kids' Pet Club to use and share your entry. Please do not share your full name or location in your entry if you are under 18.
Contest Period
The Dog Song Sing-Along Contest and Casting Call will run now from September 8  2017 until 5pm on October 2, 2017.
Winning
The 3 or more winners will be selected by Hop To It Productions Inc, the producers of Kids' Pet Club.
See full Rules and Conditions HERE.
ENTER TODAY.