Hey Pup Peeps,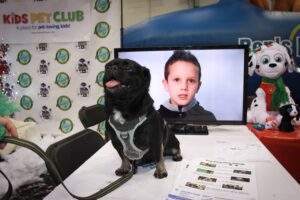 We had such a good time at the live Kids' Pet Club at the Christmas Pet Expo 2017 last weekend. We took photos, watched videos, made videos and made crafts.
I got lots of treats and so did the kids. Plus I got to see old friends like Ms. Charmin, Linzy, Sweetie, Sassy, Lucy and Tilley, plus our Pet Pals Sky Lily, Raina, Liam, Jordan, Abby, and more. We even had a visit from Dozer the Pig. I also got to make new friends as you can see in the video. Don't forget to subscribe to our YouTube Channel for more fun videos featuring kids and pets.
I couldn't believe how creative all the little humans were with their Pet Rescue Rocks and Popiloco Pets. It sure helps to have fingers and thumbs. We kept a few for next time for kids who did not have time to pick them up.
Check out the video above and the photos in our gallery below.