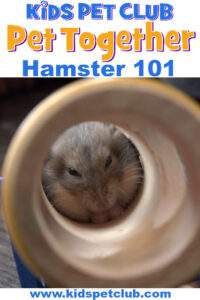 What is a Hamster?
What Kind of animal are they: vertebrate and Rodent
Cold or warm blooded: Warm Blooded
What is their lifespan: 2-4 Years depending on the type
What are their bodies like: Short fluffy bodies with little legs, nose, eyes, whiskers and a small tail
What are they covered with: Fur of different lengths and colors.
How do they see:
Hamsters have very poor eyesight and can only see a couple inches past their noses. This is likely because in the wild hamsters spend their days burrowed underground and come out when it's dark, so they rely more on hearing and smell than sight. Hamsters are also dichromates which means they can see colours in shades of green and yellow.
How do they smell:
To make up for their poor eyesight hamsters have a very good sense of smell. They use their sense of smell to identify other hamsters and can even tell from smelling them if that hamster is a male or female. They also can communicate by releasing pheromones which are chemicals that they secrete from their bodies.
How do they hear:
Hamsters have great hearing and can register sounds in pitches human ears won't pick up. You shouldn't keep your hamster in a noisy area or around barking dogs because, these sounds can be quite overwhelming.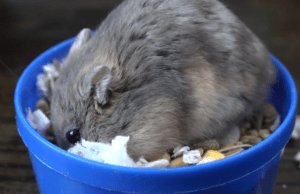 How do they Communicate:
Hamsters communicate with each other in high-pitched sounds human ears can't hear. If a hamster hears an interesting sound, you may even see them sniff the air for more information because, again, they also communicate with pheromones and smells!
Where do they live?
Pet hamsters usually live in a cage. This cage should be equipped with proper bedding, food and water as well as a wheel for the hamster to exercise and tunnels or levels for them to explore around.
When/where do they sleep?
Hamsters are what's called Crepuscular which means that they are most active at dusk and dawn (right at the beginning of both the morning and night). They aren't quite nocturnal which is what most people think. They sleep in their cages.
What do they eat?
Hamsters eat hamster food which is made up of seeds grains and nuts. They can also eat small bits of certain fruits and vegetables.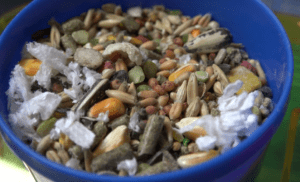 Are they affectionate?
Some hamsters can be a bit nippy but if you handle them gently often enough from the beginning they can be very snuggly and sweet.