"Are You Sleeping Little Pug?"
The New Animated Dog Song Sing-Along Video
Hey Pup Peeps! It's Kilo the Pug here and I've got a new pug friend to introduce to you.
Penny P Pug is a fearless, friendly, snuffly, snuggly, courageous, cuddly puppy – and she's in our new Dog Song Sing-Along video!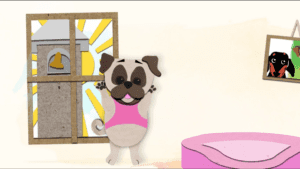 Watch our Pug's Version of "Are you sleeping?"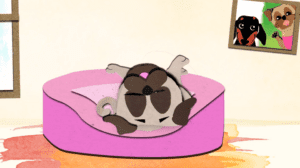 I like Penny P a lot because she's so cute and fun to hang out with. She likes sleeping and she snores – she is a pug after all. She starts the day with a spin and a grin, and is always looking for adventures once those morning bells start ringing.
Her brother Digger the Dachshund is pretty cool too. He's not in this awesome video but stay tuned to see him in future read-alongs and sing-alongs.
A new take on a classic, "Are you sleeping little pug" is short and sweet and the first in a series of puggy puppy songs. So check it out, put it on repeat and sing along with the adorable Penny P and her very own Human Helper.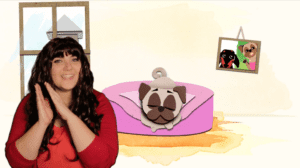 Subscribe to our YouTube Channel to see new videos each week.
Don't miss my DIY and Cooking videos – they are amazing even if I do bark so myself.
You can also check out our Counting by Two's and A to Z of Dogs breeds Videos, as well as lots of other videos about pets by our kid friends.
XOX Pug hugs,
Kilo The Pug