How To Make A DIY Personalized Christmas Ornament
Who wouldn't love to see their pet's or their kid's smiling face hanging on the Christmas tree? 
Today we are making DIY Christmas ornaments that are personalized with photos and mounted on recycled cardboard. I'm using my little Pug Kilo and his cousin Angus for the decorations.
These ornaments are so fun and easy to make and homemade ornaments are always special. All you need is some old cardboard, a pair of scissors or something to cut with, glue, string and printed photos. It's a great entertaining DIY craft to do with the kids on a snowy day. The kids can feel good about getting creative and recycling any extra cardboard you have lying around. Even old cereal or tissue boxes work well.
These adorable DIY ornaments also make perfect homemade gifts and gift tags.
Supplies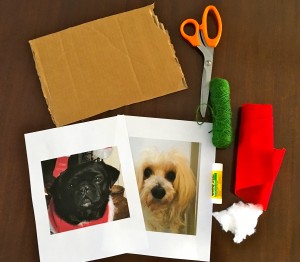 Recycled Cardboard
Photos
Glue or tape
Scissors or something to cut with
String
Red paper or fabric for Santa hat
White cotton balls for Santa hat trim.
How To Make Personalized Christmas Ornaments
Take or find a photo of your pet or someone you love.
Print the photo and cut around the face and glue it to your cardboard piece.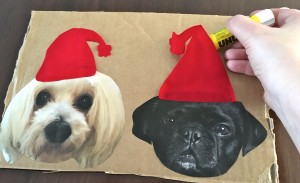 3. Cut out a triangular Santa hats from the red paper and glue the hat in place.
4. Carefully cut out the cardboard to the same shape as the face and hat. Mine are about 4 inches across.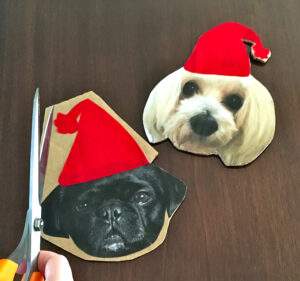 Add little pieces white fluff for trim and
attach string ( about 5- 6 inches long) to the top of the ornament to hang.
Enjoy your adorable custom ornament! Hang it on your tree, place in a stocking or use as gift tag.
Wishing You A Happy Holidays from Kids Pet Club!
We'd love to see your ornaments, share your photos with us.

Share more holiday DIY ideas in the comments below.