How To Make An Amazing DIY Mother's Day Card
With The DIY Dogs Collage Maker
Hey Pup Peeps!
Kilo the DIY Dog Here (with my Handy Human)! It's Mother's Day on Sunday May 14th in North America and I plan to spoil my Mom with so many kisses and pug hugs!
I also want to make her an amazing Mother's Day Card and now that is SO easy. Just watch this quick and simple video that explains how to use our Collage Maker and away you go!
To get started click on the Picture below or go to Game in the Main Menu on Kids' Pet Club to get started!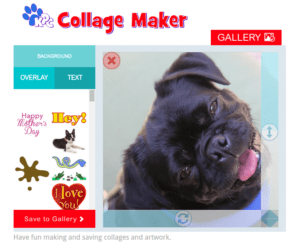 How To Use The Collage Maker
It's so easy, even a little pug like me can manage with a "hand" from a human helper.
Click on the Blue Background Box and then choose and add a background picture.
Click on Overlay and add fun and hilarious decorations like sunglasses, pets, instruments and hats. See video for how to use the tools- that took me a little while to learn but you can move things around and change sizes. It's super cool.
Click on Text to add text like "I love you!" or "Happy Mother's Day!"
Click on Save to Gallery to save your image in our gallery with a title and nickname. You can see mine there.
Click on Download to save to your computer. You can then print and share with your Mom and friends.
Have fun making and saving collages and artwork! I can't wait to see.