Pick Up The Poop Game
Pup Peeps – This is not your average Easter "Egg" Hunt!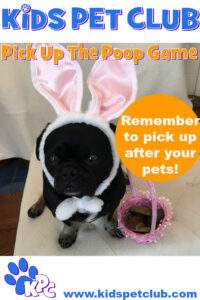 Hey Pup Peeps – This weekend at the Canadian Pet Expo, Kids Pet Club will be hosting a booth and running all kinds of games for you kids to enjoy! If you love Eatser Egg hunts, you'll love our new spin in this traditional game.   "Pick up the Poop" will soon be available to play online and we will running a special live relay team version at the expo over Easter weekend! Lots of PRIZES so come and try it out.
Why This Game Is So Great For Kids
Dog Poop looks and smells gross plus it can be dangerous if you leave it lying around.
Picking up after pets is one of the biggest lessons for young pet owners to learn and our game aims to make the once undesirable task of cleaning up dog poop just a little bit more fun and rewarding!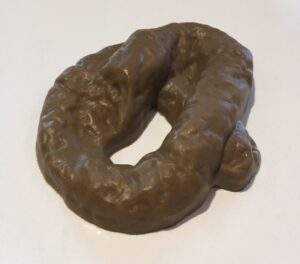 Materials:
-21+ Plastic, fake poops
-2 Trash cans
-21+ Poop bags
-Timer
How To Play:
Set up:
Pick a date and a location to gather some friends together.
Make sure you have enough supplies before the date. (We found our stash of plastic poop at a local prank shop)
Prepare the playing area by hiding an uneven number of plastic or homemade fake poop around. We recommend making some poop obvious but also giving the kids a bit of a challenge by hiding some more thoroughly like under furniture or inside of something they might not think to check.
1. Split the kids into two or more even teams.
You can play this game with as few as 2 people and still have a great time!
2. Have the kids line up next to two trash cans.
3. Set a timer – we'll be doing 1-3 minutes
(depending on the number of kids and the number of poops)
4. Have one kid from each team go at the same time.
5. Each kid runs and locates one poo at a time to pick up with a bag and return to throw it in the trash.
6. Once the kid before has found a poop, picked it up and put it in the trash the next kid on their team gets to go and do the same.
7. The game ends when the timer runs out and the team with the most poop properly in the trash wins!