How to Say Hello to A Dog by Henry
Hello Pup Peeps, I'm Henry.
Today I would like to speak to you and your friends about the importance of introducing yourselves to my dog friends and me the right way.
Dogs come in all different breeds, sizes and personalities and from all different situations. Yes, we are all beautiful, but some of us don't like to be petted by strangers and can become very scared if you run up to say 'Hello.' When we are scared we may bark or growl or even bite, especially if we suddenly see a strange hand coming down from above towards our heads.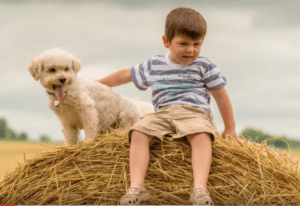 I was rescued when I was very young. I have always been a brave, friendly pup and I love pup peeps (kids).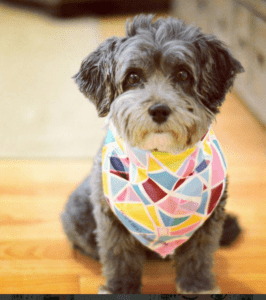 My sister, Reese, and my new brother, Jack were older when they were rescued and joined our family.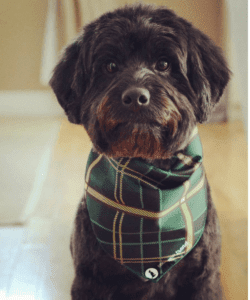 They had not been treated well before they came to live with us. In fact, it took a long time for Reese to figure out how to play with toys, to enjoy going for daily walks and to know that she is safe. Jack is still learning. We have to be extra careful when we take him for walks and teach the children in our neighbourhood (and their parents) how to introduce themselves properly and behave respectfully around Jack.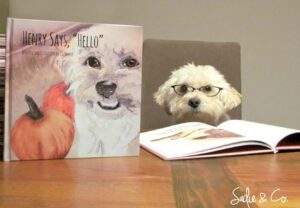 Here are tips that I share in my book 'Henry says, Hello'
Always ask a grown-up if you may meet their dog before saying "Hello" to the dog.
If you're invited to meet a dog, move slowly and quietly and get down by the dog's side. Give the dog space and don't look them in the eyes or reach down from above to pat their head. That could feel scary to them.
Make sure the dog can see your hands; don't wave them about, and keep them out of their face. If it's OK, they may want to sniff your hand but hold it below and let them come to you.
If it's okay for you to pet the dog, be gentle. Stroke the dog's back and side, avoid touching the head.
When you're ready to say goodbye, stand up and walk away as slowly and quietly as you arrived.
Don't approach without letting them know and never sneak up from behind or lunge down from above.
Don't chase, scare, or tease a dog: that's mean and unkind.
Speak softly, don't yell or shriek, when you call their name. If you don't know their name, you may use mine. They may not answer to "Henry," but they will know you're there. That's fine.
If you ask to say "Hello," and a dog's person tells you, "No," don't be sad. Remember my sister Reese and my brother Jack and Kilo the Pug: some dogs prefer to be left in peace and it is important to keep you and the dogs safe. Other dogs may be working and should not be disturbed or distracted for example Service Dogs or Police Dogs.
Parents: please review these tips with children regularly.
Practicing these tips will help Jack and Kilo the Pug and other dogs like them become used to people and learn to trust.
Thank you for listening!
Love, Henry xoxo
P.S. Parents, if you would like to get a copy of the wonderful book "Henry Says Hello" you can buy it on Amazon through this link. (Note this link leaves our website. This is not an affiliate link.)