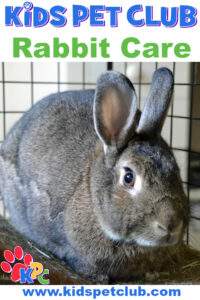 Rabbit Care
Hey Pup Peeps!
Check out this great info on Rabbit care from our human helper and expert Kristin.
You know me, I am always hungry so lets start with food:
What Should I Feed My Rabbit?
Rabbits eat hay, lots and lots of hay. The healthiest kind of hay for rabbits is timothy or grass hay. You can place the hay right in their pen and add more a couple times a day to keep it fresh. Another idea is to put some hay in a cardboard box. Bunnies love boxes so this will be fun for them, too!
Rabbits also need two salads a day with a mix of different greens and a few special toppers. Some bunny favorites include: romaine, red leaf lettuce, green leaf lettuce, butter lettuce, basil, carrot greens, cilantro, dill, and parsley. Spinach and kale have too much calcium for bunnies so only feed a tiny bit or none at all.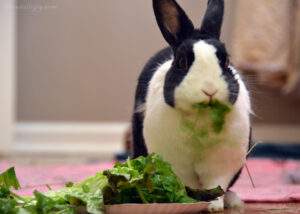 Salad size is based on bunny size – a tiny bunny should have one or two cups of greens a day while a bigger bunny might eat four to six cups a day.
Always remember to wash your rabbit's greens. Bunnies like fresh greens. Don't feed your bunny greens that you wouldn't eat yourself.
Bunnies should only get pellets as treats (they are kind of like candy for us). Timothy hay pellets are the best. Like salads, serving size is based on bunny size.
Make sure you avoid pellets or food that contains birdseed (because bunnies aren't birds), dried corn, peas, or fruit. Gourmet mixes and yogurt drops can also make your bunny sick so avoid them.
If your rabbit stops eating or pooping, you need to take them to a vet. This is a sign that they are very sick and need help.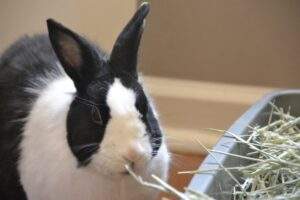 Where Should My Rabbit Live?
Rabbits should live inside where they are safe from other animals and bad weather. They are very social and like being part of the family rather than in a cage outside.
Rabbits need lots of space for stretching and hopping around. They can live in a small room, a pen, or bunny condo. Habitat should be 4-6 times the size of your bunny. They do best on smooth or carpeted floors. Wire bottoms hurt their feet and can cause injury.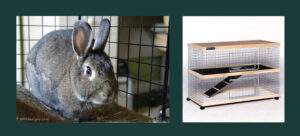 Rabbits love to play with cardboard boxes, bunny safe baskets, and blankets. These are always fun to include in their habitat.
Bunny habitat should be cleaned with white vinegar and water. Other cleaning products are toxic to bunnies.
Bunny Habitat Options
Exercise pens are inexpensive and easy to clean. They should be at least 36 inches high so your bunny doesn't jump out and get hurt.
Condos come in all shapes and sizes. They are also easy to clean and sometimes have several floors and ramps for your bunny to explore. They should be at least 36 inches long by 24 inches wide. Doors on the side are a great option so you can let your bunny out for exercise and playtime. Adding a pen around the cage lets your bunny come and go as they please, which is fun for both of you.
A spare room is ideal for adventurous bunnies. Remove plants, books, and papers or anything else they might eat. You will also want to cover wires, cables, and outlets – bunnies love to chew! Most bunny proofing supplies (like plastic covers) can be purchased at your local hardware or craft store.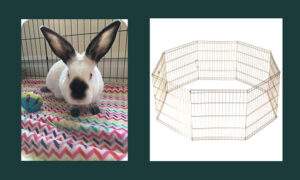 Regardless of which habitat you choose – remember that bunnies do best with 3-4 hours of exercise each day. Watching them run and hop around is lots of fun!