Cute simple dog tricks like sit, shake a paw and hi 5!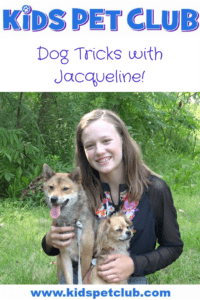 Join our Kid's Pet Club friend, Jacqueline, along with her Shiba Inu puppy Nyla and her Chihuahua Princess, as they visit a Toronto Beach and show you how to do some cute easy tricks.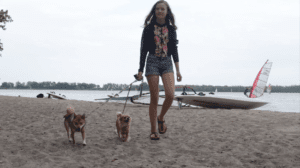 Jacqueline says her favourite part of having a dog is the friendship and love they bring to her life! Her dogs are in tune with her and act as loving companions. They are always ready to listen and have her back.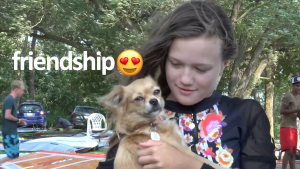 Each dog is different, and Jacqueline loves her pup's big personalities.
Jacqueline's Favourite Dog Tricks to Teach
Shake a paw and high five
1. Hold out a treat in one hand and put your other hand out. Say paw give the treat to your dog once they lift one of their paws up off the ground.
2. Then say shake a paw and have them touch your hand with their lifted paw and give them a treat. You can reach gently for their paw to help at first.
Sit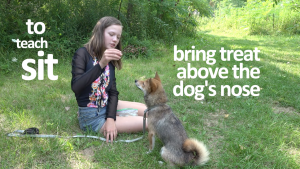 1. Start by kneeling down with your puppy standing in font of you and hold a yummy treat in front of their nose.
2. Move the treat of towards their nose then over their head towards their back. This should cause the puppy to lift their nose, follow the treat and keep their head up but drop their rear. If they jump up you may have the treat too high.
3. As soon as their backside hits the floor say "sit" and give them a treat so they learn to associate the action with the command. Once your puppy begins constantly sitting wait a few seconds before rewarding. 
Be patient and keep it fun. You can use your hand very gently to guide their rear down if they really don't get it but you should not need to.
Come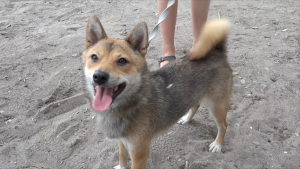 1. Make sure you are somewhere safe and enclosed with no distractions. Hold a treat in your hand.
2. Get your puppy to come to you by saying "come" or by calling their name while kneeling. Be inviting, pat your legs,  and open your arms. When your puppy comes reward him! 
3. Practise on a leash so you can gently guide them towards you if they are distracted or don't understand what you want. Use a leash if you are outside to keep them safe and secure.
Jacqueline's Must haves for Puppy Ownership
A collar or a harness.
A leash and time for plenty of walks to keep pups active and get out their energy.
She says one of the most important things to get for puppies are toys! Toys prevent puppies from getting bored and destructive or using your furniture and things as a play thing to chew on.
 Fresh food and water are obvious needs for your puppy, and lots of treats can help with training too!
 A crate is good for your puppy to sleep in at night so they don't get too rambunctious without supervision.
Pee Pads, for accidents in the house.
Beds and blankets, to keep them warm and cosy.
Grooming supplies like a brush and nail clippers to keep your puppy comfortable and looking great.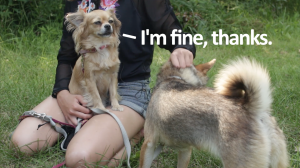 It's time to start training – Good luck, Puppies and Pup Peeps!