Ambassador Jordan Loves Dogs
Hey Pup Peeps – Meet Jordan
Name: Jordan
Age: 9 years old
Pets: Dogs
Pet Name: Boots (5-year-old terrier mix)
Siblings: Older sister who is a very talented dog trainer and performer.
Future job: Dog trainer

Hobbies and Interests
Jordan has loved dog trick training and performing since she was a baby. She has performed at many events including Canada's Wonderland and Pet Expos. Her favourite trick to do with her dog is "play dead".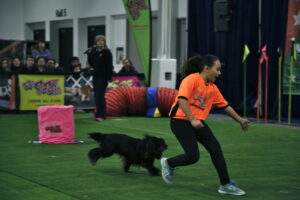 Jordan's dog Boots can do "High Five", "Sit", "Lie down", "Sit pretty" and a bunch of other cool tricks.
She regularly competes with her dogs in flyball, agility, dock diving and rally, performing at events across the province of Ontario with the Woofjocks.

Favourite Animal
Jordan loves dogs because they are really easy to train and are cute. Her family own a Wonderful Dog Training Facility called K9 Central.