Ambassador Sky Lily Loves Reptiles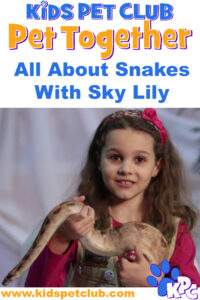 Meet Sky Lily
Name: Sky Lily
Age: 8 years old
Pets: Snakes, Lizards, Tortoise, Dog
Pet Names: Pretty Popcorn Boy (Ball Python), Super Sam (Salmon Boa), Leviathan (snake), Mr. Snuggs (Russain Tortoise)
Favourite school subject: "I like school, especially science and learning about animals, but the best school year I had was being home schooled and getting to help my Mom with all the pets every day!"
Favourite food: Tacos or Pizza
Favourite music: Rap and pop music
Favourite colour: Pink and Black
Siblings: Older sister Raina
Future job: A Herpetologist
Hobbies and Interests
"I play soccer and I am awesome at five pin bowling. I love being outdoors, birdwatching, herping, and going on adventures."
"My favourite shows to watch are SnakesBytesTV and Expedition Unknown, it's a cool show all about archaeology. My whole family gets together to watch the new episode once a week!"
Sky Lily says that she first got really inspired about reptiles watching expert Brian Barczyk's videos.
"My hobby is reptile care and education. I also bred my first clutch of snakes this Summer! So I am officially a Reptile Breeder! I also rescue reptiles in need."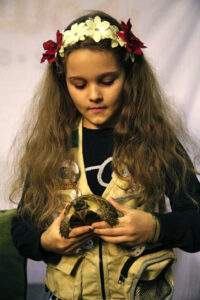 Favourite Animal
"I first got into reptiles about 3 years ago when my Mom found a Dekay's snake inside in winter and rescued it. I helped her learn everything about it and we let it go in the Spring. So then I became obsessed with rescued snakes and lizards!"
"I rescued unhealthy Corn Snakes and a baby Blue Tongue Skink next and then BOOM our collection grew! I knew I wanted to keep learning and sharing the passion."
Did You Know?
"An interesting thing about my name is my older sister Raina picked my middle name Moon!"
They also run their own YouTube channel called 'SkyLilysNatureTV'.