Our top 13 Dog breeds that are Absolutely Great for Kids and their Families!
Hey Pup Peeps,
Are you thinking of getting a dog or a puppy?  You can see our list of questions to ask before getting a pet Here.  Of course my favorite breed is Rescue Pug (like me).
Every family and every dog are different. When deciding what breed is right for you, make sure you think about the age of your kids, your lifestyle, your living space, how much time you have and what you want to do with your dog. Do want a trick dog? A snuggly dog? A small dog to fit your apartment? A large athletic dog to bring on hikes or do agility or dock diving with?
With the right training, socialization and care, most breeds and mixes can make good family dogs. However, Professor McKnowItAll and I put together a list of popular dog breeds for kids and families to help you decide what might suit your family best. Even if you decide on a certain breed, consider adopting (I am adopted). X Kilo the Pug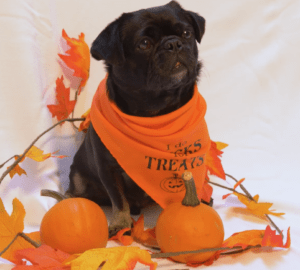 #1. The Pug (like me)
What can I say? We are the best. Pugs are companion dogs and super cute you have to admit. Although some call us small, we are big on cheeky charm and love company, attention and the couch or a lap to snooze on. We are quite sturdy and usually like children. If properly socialized and trained, we can make really great family pets. Pugs and pug mixes are usually smart, affectionate and eager to please, but some of my pug pals are a little stubborn to train (not me- I love training for treats). We love to play and take lots of short walks. We can be very fast in short bursts and I can jump very high which is helpful when I try to steal food off the dining room table (shhh.. don't tell).
#2. The Golden Retriever
These dogs get their name from their ability to learn to fetch or retrieve an object, which can be a great thing if you love playing outside with your dog! They can be calm indoors but they love lots of mental and physical exercise and do require some grooming as they shed. A golden is generally easy to train, gentle, patient with kids and affectionate. They are strong and not too easily injured or stepped on. They make amazing therapy or service dogs as well as family members.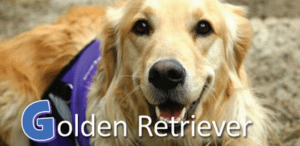 #3. The Labrador Retriever
My sister Cookie (RIP) was a yellow lab. Labrador Retrievers are usually very warm, smart, and easy to train, similar to a Golden Retriever. They come in a large range of colours, like chocolate, black and yellow. They often like playing fetch and are athletic and agile, which makes them perfect for active families. They require regular walking and do require some grooming as they also shed. They are strong and not too easily injured or stepped on. They can also make amazing therapy or guide dogs and family members.
#4. The Poodle
The poodle is a loving and athletic breed that is incredibly intelligent. They come in 3 sizes, from the tiny toy to the grand standard. They have majestic curly coats and adapt well to apartment living or an active life and big garden. They are low shedding and easy to train.  They need lots of mental and physical stimulation.

#5. The Collie
Collies often love kids. As they were bred to work with people, they are outgoing and friendly. They require moderate exercise and are very sweet. They do require grooming.
#6. The Newfoundland
The babysitter dog, known for its gentle giant reputation. This dog is very friendly and loves affection. They are very large, however, and need a home with room for their floof!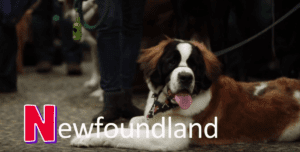 #7. The Beagle
The Beagle is often thought of as the ideal family pet, they are medium sized, and a medium coat length, and a friendly disposition. These dogs are usually gentle with enough energy to keep up with little kids, which makes them an awesome playmate. They need to be groomed regularly.
#8. The English Bulldog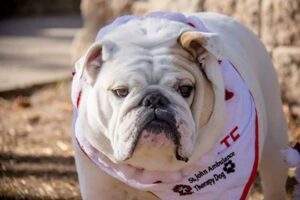 If your family is less active, an English bulldog could be an awesome choice! They still require regular exercise but maybe nit as much as certain other breeds, and their flat faces can cause them to over heat or have trouble breathing. This breed usually loves a good belly rub, cuddle and snooze but is muscular with good balance so can learn sports. They can be a little stubborn, but a little socialization and lots of positive training and they can become outgoing, obedient, gentle love bugs.
#9. The Schnauzer
The Schnauzer was originally from Germany, and its name is believed to be derived from the word snout.  This versatile breed comes in 3 sizes, Mini, Standard ( pictured below) and Giant depending on your space allowance.   This breed is great for the family that wants to keep active and are quite trainable.  They are likely to be barkers and will require some training to prevent this habit. 
#10. Labradoodle or Goldendoodle
Labradoodles were originally a cross between the Labrador Retriever and the Standard Poodle, now they are a breed of their own. They are usually very friendly, playful and loving dogs that can be great for families and kids. The Labradoodle can be a high-energy dog that requires lots of mental and physical exercise.   They are known for their low to non-shedding low allergy coat, and lack of doggie odour. They are usually highly trainable, non-aggressive, and intuitive. They generally now come in 3 sizes- Standards, Mediums and Minis.
Similar to Labradoodles, the crosses between Golden Retrievers and Poodles can make ideal loving family pets. They also shed less than a standard golden and are very intelligent.
#11. Cockapoo and Maltipoo
Cockapoos are a cross between Poodles and Cocker Spaniels. Similar to doodles, they are smart and athletic but they can also have the gentle lap dog side. Maltipoos are crosses between Maltese and Poodles and are small, athletic, loving, cute and good for allergies. Small dogs can become yappy without socialization and good training.
#12. The Hungarian Vizsla
The American Kennel Club claims that this breed is highly trainable, busy and always on the go. If you are an active family then there is no need to worry about this pup keeping up. DogTime refers to this breed as the 'Velcro Vizsla' because they are such a loving dedicated companion, a trait that may make them a great family dog, therapy dog or running partner.
We believe dogs are great for kids! What breed does your family have or want?