What You Need To Know About Dogs
What Kind of animal are they: Mammal. The domestic dog (Scientific name: Canis lupus familiaris) is a member of genus Canis.
Cold or warm blooded: Warm Blooded
What is their lifespan: 10-13 Years depending on the breed and care
What are their bodies like: Dogs can range from a kilo up to 85 kilos. Compare a tiny Yorkie and a Great Dane. They can range in height from 6.3 – 110 cm (At Shoulder)
What are they covered with: Their hair or fur can vary immensely in colour, style texture and length. They can have long hair short hair straight hair curly hair wiry hair or smooth hair.
How many kinds of dog: There is only one species of domestic dog, but this is different from breed. Dogs can be different breeds but the same species. There are hundreds of official dog breeds in the world and even more mixes (see our A to Z of Dog Breeds here). Each dog has his or her own unique set of characteristics and personality.
Did You Know?
Dogs are the most widely found carnivorous warm-blooded mammals on the planet.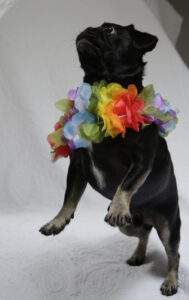 How Do Dogs Smell?
Dogs have amazing senses of smell and hearing, depending on the breed, your dog has between 125 million to 300 million scent glands — compared to only 5 million for humans. The part of your dog's brain that controls smell is 40 times larger than yours.
How Do Dogs Hear?
Dogs can hear 4 times as far as humans.
How Do Dogs See?
The fact that dogs are colorblind is actually a myth. Dogs can see the colors blue and yellow, its the reds and greens that they have trouble with. Dogs can also only see 1/4 as far as humans, but can see 250 degrees around. This means that while a dog can't see something as far ahead as humans, they can see something that's a little behind them, unlike us!
How Do Dogs Move?
They move by walking on four legs and have four paws, although certain trick dogs can be trained to walk for short distances on their back paws or front paws.
History
It seems very likely that the dog evolved from certain strains of wolf, and these were strains that had lost their fear of being close to people.
Dog skeletons from 9000 to13000 years ago have been found all around the world.
Early dogs have evolved into one of the most varied and successful species on earth, with a wide range of sizes, shapes, talents and roles.
They were featured in rock paintings thousands of years ago. In Egypt, Israel, and Mexico, their bones, as well as images and sculptures have been found in ancient burial sites and tombs. Smaller dogs appear to have been pets, taken for walks, and decorated with collars.
The first Dogs were probably food sources, scrap eaters, guards, and companions. Many experts believe early dogs also hunted with humans.
Wolves, and then dogs, would have fit into human hunting and gathering societies well, helping find meat and survive. Both were carnivores. Both were vocal. Both lived in groups. Both hunted by daylight in packs. Dogs were good hunters, fast and strong.